Wedding Hairstyles for Brides and Grooms
At Nevaeh Hair Salon in Roseville we have the perfect bridal hairstyle to make you feel like a princess on your special day. Let the professionals help you make the most important day in your life extra special, creating the perfect hair experience for you and any of your wedding party. Take inspiration from the selection of bridal hairstyle ideas at Nevaeh Hair Salon and wow your wedding guests with a stunning style.
Wedding Hairstyles for Brides and Grooms
Wedding Hairstyles: Classic styles with a twist for the groom!
Looking effortlessly put together is what is in style this season for grooms. Facial hair is trendy and even long hair has been seen on the runways. The goal is to look clean and kept rather than looking scruffy and poorly maintained.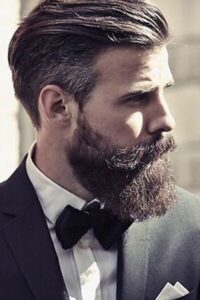 Clean Edges: Make sure that your sides and neck are clean while the top is just long enough to slick back using your favorite product. Don't use too much product though if you want to perfectly achieve these wedding hairstyles!
Long Beard: If you like the long beard look this trend is for you. Before your big day, ensure that your beard is trimmed and clean to achieve this wedding hair look. Keeping your sides short and the top of your hair long is perfectly on trend so stick with it!
Long on the Top: If you have a side part, make sure that you keep your sides buzzed and the top can fall to the side you usually lean toward. Add a little bit of styling product and you are good to go with this wedding hair look!
Wedding Hairstyles: Vintage Beauty
Vintage wedding hairstyles are totally in for brides this year. There are so many ways to put your own twist on a classic look. The best part about vintage style is that you can customize it to fit your own unique look. Curls, headbands and lots of lace are all great starting points for these stunning wedding hairstyles.
Pin Your Hair Up: If you are looking for a wedding hair look that will keep your locks out of your face for the big day, pinning your tresses up in a vintage fashion is the best option.
Long Curls with Volume: Keeping it simple and glamorous on your big day is a classic wedding hair look. By adding a stunning lace hair piece to your look you will instantly create a high fashion finished bridal look.
The Perfect Combination: If looking sassy and trendy is more your style, the side bun is the best option for you! This look is a simple wedding hair look that never disappoints.
Book your Wedding Day Hairstyle Appointment at Nevaeh Hair Salon in Roseville
Book an appointment for your wedding day hairstyle with one of our friendly team at our hairdressing salon in Roseville by giving us a call on (916) 786-5888 or book online here. We would be honored to be a part of making your big day special, let us ensure you get the bridal hairstyle of your dreams.